Just under half of the UK has no access to fibre broadband, with rural communities such as those in Northern Lincolnshire often neglected by major broadband providers.

Our CEO Sean Royce, said poor connectivity meant rural areas were "going backwards in terms of economic activity" because they were digitally disadvantaged in comparison with well-connected cities and towns.

Speaking during an event as part of the Great Big Small Business Festival in North Lincolnshire, run by business support group E-Factor, Mr Royce explained that Quickline's mission is to tackle the digital divide between rural and urban areas.

He said: "We all know rural communities which have lost access to services such as their bank, Post Office, library, GP surgery or even their local shop, with people forced to drive miles to their nearest market town for services.

"Those people depend on having a fast, reliable broadband service to carry out their day-to-day tasks. But, for many living in rural areas, that service does not exist.

"For rural businesses, it's no different. Without access to high-speed broadband, businesses will move from rural areas to towns and cities and rural communities will wither and die.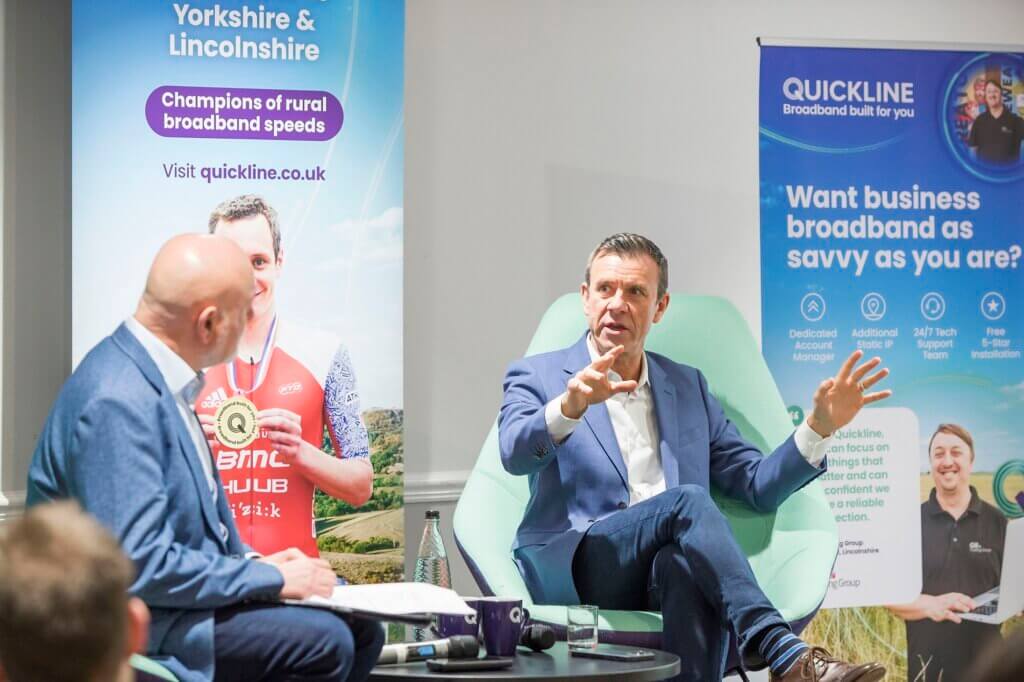 "Put simply, the better broadband a business has, the more services they can offer and the more markets it opens up for them. Digital connectivity drives economic growth and its importance cannot be overstated."
Mr Royce joined the Quickline business in 2021 to lead our mission to deliver gigabit-capable broadband to rural areas which would otherwise be left behind. We're rolling out a hybrid network of full fibre and 5G fixed wireless broadband to some of the most remote locations in Lincolnshire and Yorkshire.

Speaking during the event at Forest Pines Hotel in Broughton, North Lincolnshire, Mr Royce said: "At Quickline, we're connecting rural communities to a world of possibilities.

"Levelling up means more than simply between north and south – there is huge digital divide between urban and rural areas and it's widening. That's why we're investing millions in building a new network and improving infrastructure to go where other providers will not."

The event, titled "Pioneering the future of business with Sean Royce", saw Mr Royce discuss his career to date and how he had seen the business landscape change dramatically due to digital connectivity.
A well-respected business figure in the Yorkshire and Humber region, Mr Royce has vast experience in technology, telecoms and internet service businesses.

While at KCOM, based in Hull, he created the investment case for full fibre broadband and then led the teams building the network. As a result, Hull became the first city in the UK to have 100 per cent Fibre-to-the-Premises (FTTP) coverage, which was proven to unlock nearly half a billion pounds of economic benefit to the region.

Mr Royce also recalled the launch, by the then Kingston Communications, of KIT TV in Hull, a pioneering interactive digital television and video on demand service. As part of this, Mr Royce was involved in pioneering technology trials with Blockbuster, and he explained how the video rental chain missed out on the opportunity to become a Netflix-style service when they pulled away from the broadband enabled project.
Fast forward to today and high-speed broadband is now "critical to every aspect of life", said Mr Royce, "and those businesses that can't access it or don't embrace it, and the technologies it enables, will miss opportunities or worse, go the same way as Blockbuster."

He emphasised that the rollout of full fibre broadband was the second largest infrastructure investment in the UK and the largest privately-funded one.

Mr Royce also pointed to recent research which found that providing rural areas with "excellent digital connectivity" would add £65bn to the UK economy and create over a quarter of a million jobs.

The event was hosted by John Meehan, founder and Managing Director of Meehan Media & Comms.