We're on a mission to bridge the digital divide between rural and urban locations and are connecting scores of outlying communities in Yorkshire and Lincolnshire that would otherwise be left behind by major national operators.

And we've now been honoured for the rollout of both our full fibre and 5G fixed wireless internet connectivity.

At the Adtran UK Fibre Awards 2023, hosted by global internet and communications equipment giants Adtran in London last week, Quickline claimed the Best Rural Innovation Award. The awards are held to shine a light on the innovative work of alternative network providers (AltNets) across the country.

The accolade recognises our dedication to bringing isolated communities up to speed through our full fibre network and was awarded to Quickline for "the most innovative use and combination of full fibre products and services to solve business challenges".

Quickline was also highly commended in the Rural Fibre Service category in the same awards for the positive impact it is having on the communities it serves.

One of the judges commented: "This is awarded for the significant impact fibre rollout has had on the rural communities they serve. Quickline have sought to reach these communities which have, until then, been underserved with full fibre connectivity and so created a positive impact in the rural community they serve."
As well as the Adtran UK Fibre award, we were also triumphant in the Connected Britain Awards, winning the Wireless Innovation Award, recognising how we are pushing the boundaries of rural connectivity.

The winning entry focused on our successful deployment of the UK's first 5G standalone fixed wireless network, providing an end-to-end solution to connect even the most remote communities.
One of the judges described it as "proper innovation with extensive real-world applicability."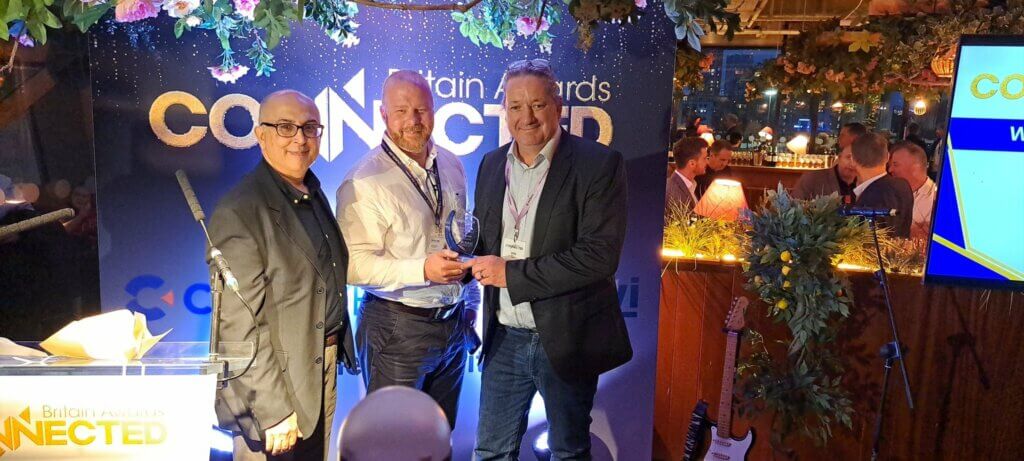 The Connected Britain Awards formed part of the Connected Britain show held at Excel London, which brought together more than 5,000 leaders shaping the country's digital future.

Our CEO Sean Royce and Chief Technology Officer Ian Smith also delivered sessions at the flagship event, engaging with audiences on how Quickline is tackling digital inequality and connecting hard-to-reach communities.

Sean Royce said: "We're very proud to win these two industry awards in recognition of the significant strides we've made in bridging the digital divide and providing rural communities with rapid and reliable internet access.

"It's especially pleasing that the awards recognise the rollout of both our full fibre and 5G fixed wireless technology.

"Our sessions at the Connected Britain also provided an excellent platform to share our story with leading industry professionals and other key stakeholders to discuss some of the most pressing issues facing our industry including the important matter of bridging the digital divide and connecting hard to reach communities.

"These awards are further endorsements of the transformational difference we're making to rural communities across Yorkshire and Lincolnshire that would otherwise be denied the digital connectivity that is absolutely essential for so many aspects of daily life."