Peter Etchell, 61, was mowing the lawn at the bottom of his riverside garden in West Butterwick, near Scunthorpe, when the ground beneath him gave way and he fell more than 10ft down into the fast-flowing river.

Peter was left trapped in waist-deep water and was unable to pull himself up and out of the river.
After a failed rescue attempt by his wife Cath, she ran to the front of their house to seek help and spotted our engineers Mike Anscombe and Wesley Naulls.

The pair sprang into action and rushed to Peter's aid, throwing a rope down the river bank before hauling him to safety.

Quickline's Chief Operating Officer, Lee Allison, has praised the quick-thinking of Mike and Wesley in handling the situation with such calm professionalism.

He said: "This is an incredible story and we're all rightfully proud at Quickline of how Mike and Wesley responded to what was a very serious situation.

"Their decisive actions helped rescue Peter and prevent him from spending longer in the cold water of the Trent. We're pleased that Mike and Wesley were in the area at the time of the accident and were on hand to assist."

Peter said he was checking how wet the ground was at the bottom of his garden, when it gave way beneath him.

Due to the steepness of the river bank, and the slippery, muddy ground, he was unable to climb back out of the Trent.

Peter, who runs the Trents Motorhome and Campervan Hire business, spent more than 15 minutes in the cold water and said without the intervention of Mike and Wesley, the situation could have turned "catastrophic".

Peter said: "Unfortunately I have limited grip in my hands and so was unable to pull myself up.

"My wife and I would not have managed it without Mike and Wesley and I would definitely have slipped further into the river if they hadn't come to my aid. Mike and Wesley have my eternal thanks and gratitude.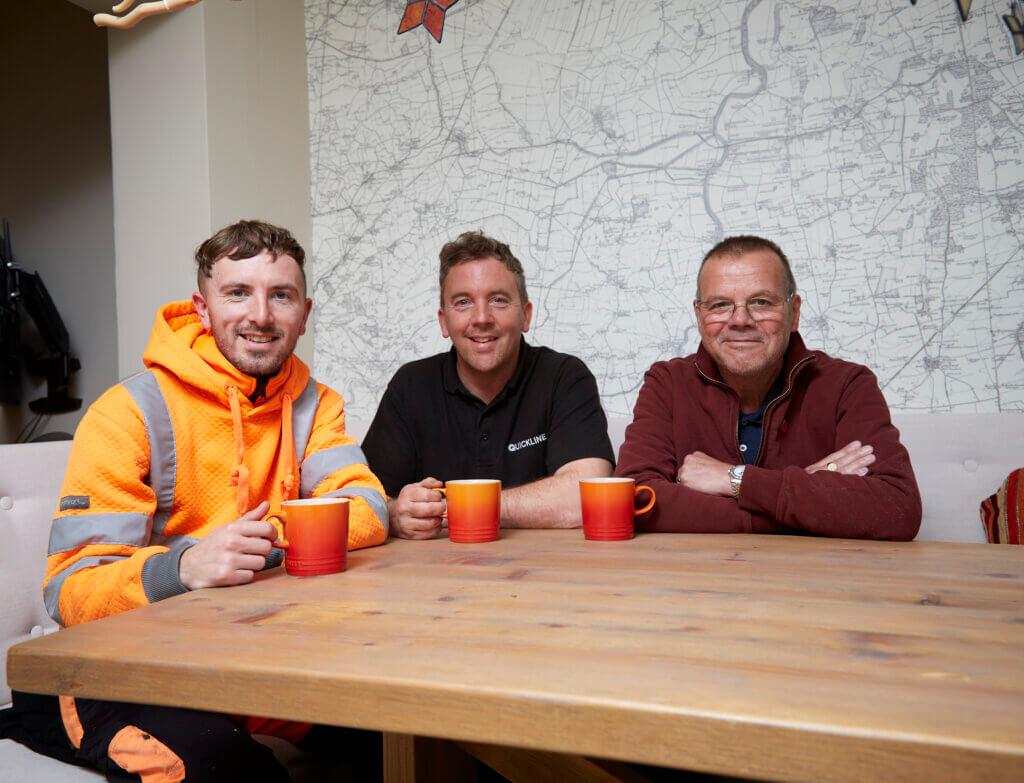 "They even returned the next morning, as they were still working in the area, to check on me. They're a credit to Quickline and the company should feel very proud of them."

Mike and Wesley were working in West Butterwick at the time of the accident and were on their lunch break when Cath approached them for help.

Wesley said: "When you find yourself in a situation like that, you act on instinct. Luckily, I did a rope training refresher course with Quickline earlier this year, so I knew exactly what to do.

"Anyone who lives or works in that area knows how dangerous the River Trent can be. It's fast flowing and the water is very cold, especially at this time of year.

"Working together as a team, we managed to get Peter out of the water quickly, which was important. I'm just glad we were in the area at the time so we could help."

Wesley's colleague and fellow engineer Mike said: "When Peter's wife Cath flagged us down, I just went into survival mode.

"The water was high and fast-flowing and there was nowhere for Peter to get a foothold to climb out."

"It's all a bit of blur when I think back at what happened now, but I did what anyone would do in that situation."