Skelton, north of York, is the latest area to be offered our fast, reliable fibre broadband as we continue our rollout to communities across North and West Yorkshire, North Lincolnshire and Lincolnshire.

Residents in Skelton who join our network will see typical broadband download speeds increase from just 16 Mbps to 900 Mbps. It also means almost 300 homes in the North Yorkshire village will have access to full fibre broadband for the first time.

Skelton is the latest rural community to be connected by us under the Superfast West Yorkshire and York programme – a partnership between the West Yorkshire Combined Authority, City of York Council and internet service providers Quickline and Openreach.

Superfast West Yorkshire and York aims to deliver next generation superfast broadband to everyone in West Yorkshire and York and also brings together other initiatives to address rural access to better internet connectivity.

Charlotte Bowman, of Brecksfield, Skelton, was among the first residents to be connected to our full fibre broadband and received a hamper to welcome her as a customer. The hamper contained a selection of gifts including cheese, biscuits and wine.
Charlotte, an artist and piano teacher who relies on the internet to teach many of her students, said: "Having fast and reliable access to the internet is really important and it was so frustrating when it used to cut out. Since Quickline arrived it's much better and we're really happy with the service we're receiving.
My son is a gamer and also heavily relies on the internet for his studies and for communicating with his friends. Having the service from Quickline has made a major difference."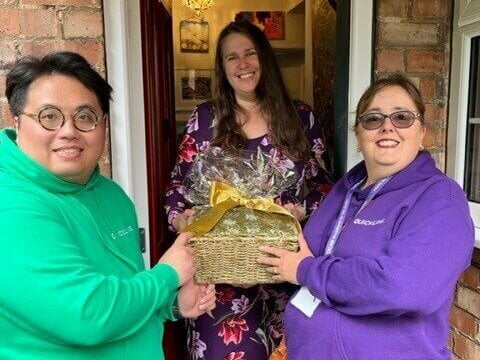 Fellow resident Richard Holmes, who also lives in Brecksfield, said: "I rely on the internet for gaming, as well as for Netflix children's programmes for my four-year-old son to watch. Since Quickline arrived, the download and upload speeds have improved significantly. We constantly use the internet and we can do what we want online at the same time now, which just wasn't possible before."

"I'm really pleased with the service from Quickline so far and I think other residents will also be glad Quickline has come to our area."

Our full fibre rollout means residents living in streets including Brecksfield, Church Lane, Orchard View, The Village and Moorlands Road will have access to robust and rapid broadband.

We're delivering "broadband for the better" to homes and businesses in rural communities through a market-leading hybrid network, combining fibre and fixed wireless broadband. In Skelton, we're providing the village with its first full fibre service.

Julian Chalk, our Head of Enablement and Engagement, said: "We're incredibly excited to roll out our game-changing full fibre broadband in Skelton, enabling residents and businesses to enjoy all the benefits the internet offers with significantly improved download speeds.

"Skelton is a desirable community with excellent transport links to York, so its residents include many professional people and commuters who work in the city. That means a significant number of residents either work from home or have flexible working arrangements, but until now have struggled with slow broadband speeds and unreliable connections."
Our full fibre broadband offers Skelton villagers a truly transformational experience, opening up so many opportunities in terms of work, entertainment, education and much more.
"We believe passionately that no community should be left behind in terms of broadband provision and we're delighted to see our services are already making a difference to villagers in Skelton."

The Superfast West Yorkshire and York programme receives funding from the European Agricultural Fund for Rural Development.
• To find out about the Superfast West Yorkshire and York project, go to www.connectedyorkshire.co.uk or www.westyorks-ca.gov.uk/projects/superfast-west-yorkshire-and-york-broadband