Controlling smart devices through voice commands and apps makes menial tasks such as unlocking the garage door, changing the temperature on your thermostat and even vacuuming, easier than ever.
All you need is a smart device and a wifi connection. It's important that whatever smart device you choose is suited to your lifestyle in order to genuinely enhance the way you live.
We've put together a list of the most popular smart home devices and the pros and cons of each so that you can put your Wi-Fi to work and make the most of what smart devices have to offer.
1. Smart plugs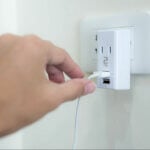 Smart plugs are one of the easiest and most affordable ways to make smart devices out of almost anything with an on-and-off switch. Want to switch on your lamp or fan with just your voice? Plug your device into the smart plug and connect it to your Wi-Fi network using an app and before you know it you'll be switching your appliances on and off with just a simple voice command or from your smartphone. With the smart plugs app, you can also schedule things to switch on and off during certain times of the day, such as your lights. Forgot to switch the hair straighteners off before leaving home? There's no need to turn back around anymore as you can switch them off using your phone.
Pros include;
Save energy by scheduling when appliances turn on and off
Control home devices remotely from anywhere at any time
Save time by programming appliances to switch on and off around work
Cons include;
You may accidentally misprogramme a potentially dangerous appliance
Smart plugs are larger than standard plugs
2. Smart Water Heaters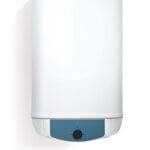 A smart water heater allows you to turn the water heater on and off remotely. It doesn't just let you control water temperatures with the tip of your fingers but it also allows you to track your water usage. Monitoring and analysing your water usage will allow you to set daily budgets and control the heat of your water and consumption to fit your lifestyle and budget.
Pros include;
Control water temperature remotely
Monitor usage and adjust to your budget
May lower your monthly energy bill
Cons include;
Relies on your wifi connection to work
Can have a higher initial upfront cost
3. Wi-Fi Smart Lock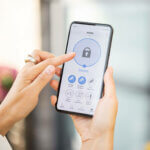 A Wi-Fi smart lock lets you open and close a door lock with the tap of a finger or a voice command. Smart locks allow remote access so you can unlock your door to let someone in even if you're not at home. It lets you know every entry and exit to your home in real-time so you can make sure your loved ones have arrived safely home even if you're out. You can create permanent and temporary access codes for guests and visitors during approved times.
Pros include;
Easier access for authorised people
No risk of losing your key
Lets you view who's entered and access logs in real-time
Cons include;
Potential for hacking
Risk of losing access if you lose your phone
4. Smart Video Doorbell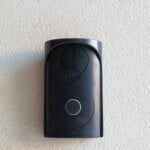 A smart doorbell lets you watch and talk with visitors on your doorstep remotely through a HD camera and microphone. You can see in real-time and talk to every person that arrives on your front door through an app on your smartphone. This allows you to communicate with unexpected visitors and see who's there without reducing your security. Its automatic video capability can also monitor and protect your home from criminals.
Pros include;
Lets you view and talk to doorstep visitors live and remotely
Receive live alerts when someone visits
24/7 video footage access
Cons include;
Potential for hacking
False alerts
Surveillance is limited to your doorstep
5. Smart TV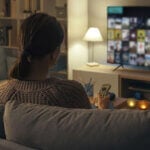 A smart tv comes with built-in Wi-Fi connectivity so that you can stream online services from providers such as Netflix, Amazon Prime, Disney+ and NowTV. You can also stream music, watch videos, view images and browse the internet. A smart TV is still capable of working without the internet to provide you with terrestrial television (over the air) but its main purpose is for access to online streaming services.
Pros include;
No need for a separate streaming device
You can integrate it into your smart home network
You can browse the internet and use apps
Cons include;
Relies on a fast and reliable internet connection to access online streaming services
It can crash like a PC
6. Smart Speakers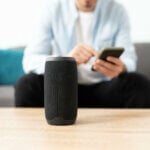 Smart speakers are voice-activated devices which can assist you with everyday tasks as well as deliver excellent audio quality for listening to music, podcasts and audible books. Smart speakers can answer your voice-activated requests to answer any questions that you may have such as the weather forecast, what's in your calendar or to turn off the smart light bulbs. Smart speakers can even be programmed to only respond to your voice.
Pros include;
A responsive voice-controlled assistant
Allows you to take control of your electronic devices
Multifunctional – can play music and answer your questions
Cons include;
Your devices may not be compatible with smart speakers
The better the audio quality the more expensive your speaker will be
7. Smart Garage Openers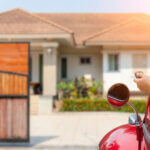 A smart garage opener allows you to remotely control your garage door from anywhere at any time. It allows you to check to see the status of your garage door to make sure it's closed when you need it to be. Most smart garage door openers are compatible with your existing garage doors.
Pros include;
Never have to worry about losing your garage remote
It increases your home security
You can control your garage door remotely
You can set your garage door to open and close on schedule
Cons include;
Potential for hacking
More expensive than standard garage openers
Power cuts can prevent your garage door from opening
8. Smart Thermostat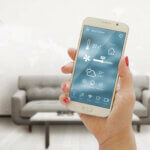 Smart thermostats allow you to control your home's temperature and heating schedule from your smartphone. Smart thermostats can save you money in the long run as they monitor how much energy you're using which makes it easier to see where you can cut back and save. You can set different temperatures for each room or floor in your house to make further energy savings.
Pros include;
If you forget to turn your heating off you can do it remotely
You can set schedules and easily adjust them
You can save money on your energy bills
Cons include;
The upfront cost is higher than a traditional thermostat
You may need a professional to install your smart thermostat system
9. Smart Security System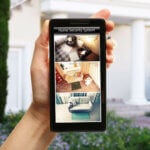 A smart security system is a fully alarmed CCTV surveillance system that allows you to check your home and manage your set-up from your smartphone. They are Wi-Fi-powered intruder detection systems that make monitoring and securing your home easy and cost-effective. Smart security systems come with added security features such as motion detection, glass break and door sensors ready to instantly alert you to any suspicious activity.
Pros include;
Significantly reduces the chance of crime on your property
Energy-efficient and easy to set up
Gives you peace of mind and security
Cons include;
There is an initial learning curve
False alarms and alerts can occur
Can be hacked if not secured properly
10. Smart Vacuum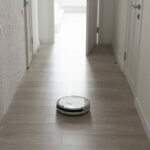 Smart vacuums can take care of your floors so that you don't have to. They have the ability to clean your floors, dodge obstacles and even let you view your home via onboard cameras. Smart robot vacuums can be controlled remotely via an app on your smartphone so you can see if they ever get stuck. The vacuum can detect where the dirtiest parts of your home are and give them an extra clean. They have inbuilt scheduling capabilities so you can select what time and days of the week you would like them to clean. Many come with a variety of mop heads and brushes as well as a standard vacuum function.
Pros include;
Saves you time and reduces your household chores
High suction power and low noise levels
Can be controlled remotely
Cons include;
Can fill up quickly and need regular emptying
Needs to be charged
May get stuck and need help
Here are the smart home gadgets designed to make your life a little easier. Our list of pros and cons should help you decide whether any of these home smart devices can enhance your life without causing too much trouble if anything goes wrong. Smart devices will continue to grow in popularity and can make great additions to your home's smart ecosystem. The more smart compatible devices you integrate into your home, the more you'll need a fast and reliable broadband connection.
View our home broadband packages to learn more.