We've opened a new training centre, stores and test laboratory to enable us with our development of innovative technologies.

The launch of the facility in Hull represents the latest stage of our continued expansion as we roll out our game-changing broadband across rural communities in Yorkshire and Lincolnshire.

The premises provide us with a custom built, modern space to train our engineers and develop the skills of our teams across the business. It will also be used to store our build and installation materials.
Our engineers will use the centre as their main base to collect equipment for installations and it will be used by our own Internal Build Team.

The test laboratory includes a dedicated space for the development of new products and services using our 5G technology. We are the first provider in the UK to commercially deliver a pure, standalone 5G fixed wireless network, demonstrating we are an industry leader in technology and innovation.

The opening of the building comes less than a year after we re-located our main headquarters to larger premises at Albion Mills, in Willerby. The latest facility replaces our original headquarters off Priory Way, in Hessle, which has been used for equipment storage since the move to Albion Mills.

It marks the latest stage of Quickline's ongoing growth. We've recruited 150 staff in the last 12 months and now have a total of 250 employees.

Hull West and Hessle MP Emma Hardy officially opened our building, which sits in her constituency.
She said: "I'm absolutely delighted to be opening this exciting new facility.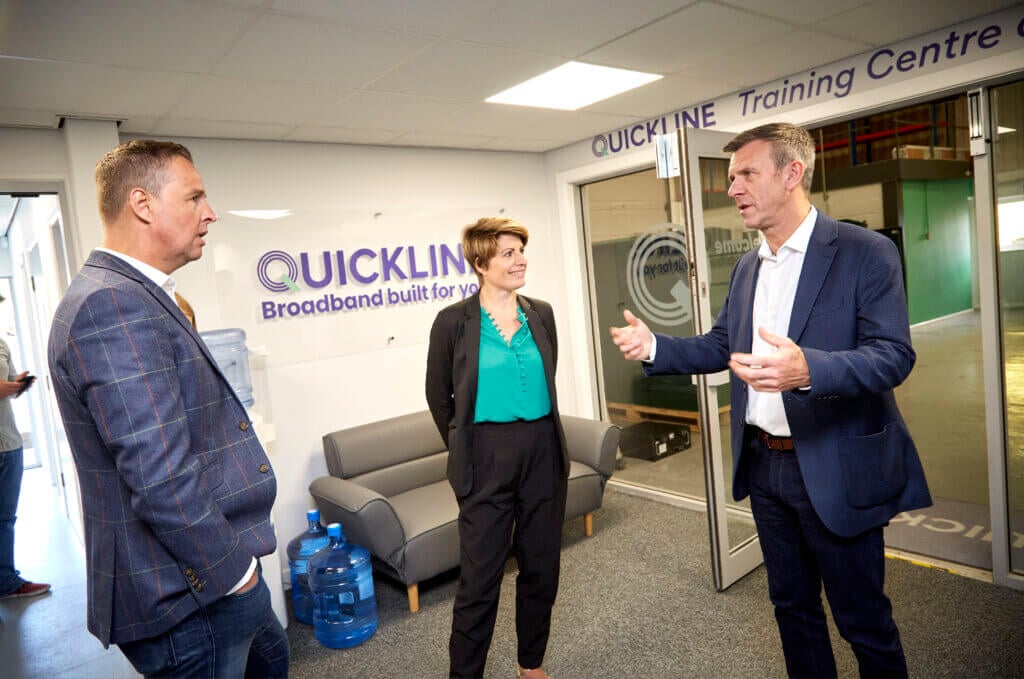 "I wholeheartedly share Quickline's view that no community should be left behind and support the company's roll-out of fast, reliable broadband to rural areas.

"This new centre will enable Quickline to continue its impressive growth, which has seen it become a major employer and an important supporter of the local economy."

Ideally situated off the A63 the facility is housed in the former ATS tyre fitting and service centre which has been empty for two years, providing easy access for Quickline staff.

It has been completely refurbished in partnership with local property developer Swanbridge Works, using tradespeople from across Hull and East Yorkshire.

Quickline is on a mission to tackle internet inequality affecting households and businesses in rural communities across Yorkshire and Lincolnshire. We have already passed more than 300,000 premises with our existing next generation fixed wireless broadband and are rapidly blending that with a full fibre network creating the UK's only gigabit capable network using hybrid technology.

Our CEO Sean Royce said: "The opening of our new facility represents another major investment in the local economy by Quickline.

"It will provide us with an essential, dedicated space to train our people to the highest standard, so they can deliver the outstanding service our customers deserve.

"The test laboratory will also enable our experts to develop new and innovative services with our existing 5G and fibre technologies, as we continue to deliver on our mission to ensure rural communities in Yorkshire and Lincolnshire aren't left behind."

Residents and businesses can use Quickline's postcode checker at www.quickline.co.uk to find out whether a Quickline service is available in their area.