The connectivity we've provided will enable a host of events to be held at the hall, including a film club showing recent Hollywood blockbusters and activities especially aimed at children and young people in the village.

The investment extends to providing the community with a laptop, printer, microphone, VR headset and PlayStation 5 and will also allow the hall to reduce its running costs through remote heating.
The Quickline branded hall is the first of our new 'Q Hubs', which are being rolled out to other communities we serve over the coming months.

Our full fibre broadband is now live in Hibaldstow, near Brigg in North Lincolnshire, and we've sponsored the village hall as part of its commitment to the community. We worked closely with village representatives to ensure we provided what was needed to create a valuable resource for residents, community groups and local businesses.

The official launch of the 'Q Hub' takes place on Saturday, May 13th, 2.30pm-5.30pm with a family event to mark the occasion.

We'll be hosting a gaming competition using the new kit, with prizes up for grabs and our staff will be there to hand out goody bags and answer questions from residents. There will also be drinks, snacks and a pick 'n' mix stall.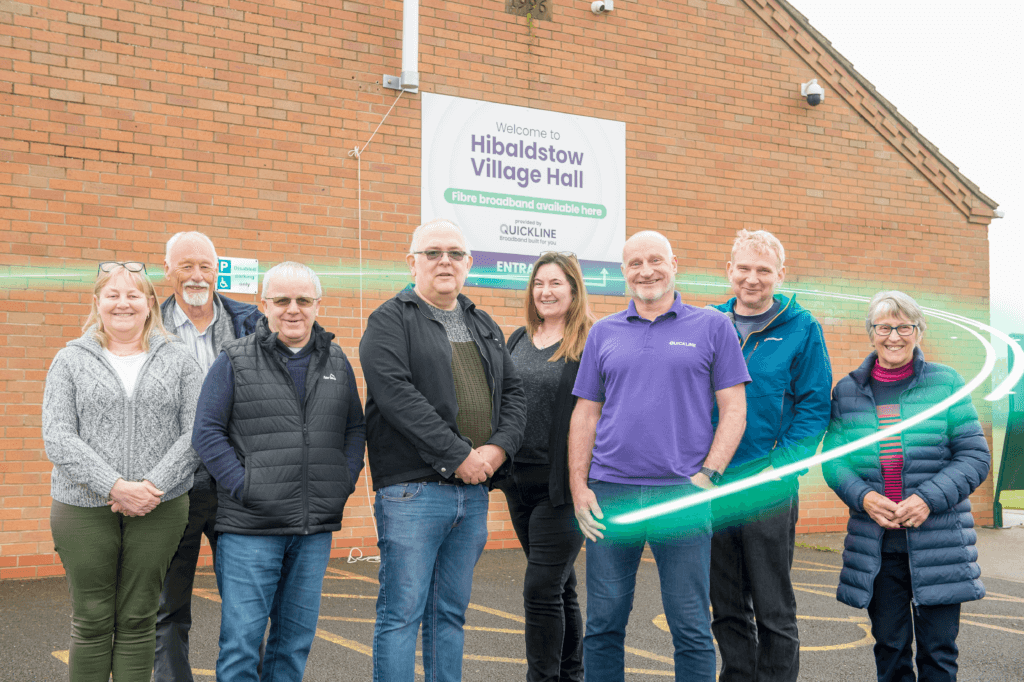 Colin Mawdsley, Secretary of the Village Hall Committee, said: "When people think of village halls, it generally conjures up images of jumble sales and bingo nights.
"The Village Hall Committee at Hibaldstow wants to change that perception here and host events that engage all age groups and create a more vibrant social calendar for our community.
"Key to this modernisation is fast, reliable connection to the internet and our partnership with Quickline has started this transformation, thanks to their generous sponsorship."

We are on a mission to reach places other internet service providers leave behind. We've already passed more than 300,000 premises with our existing next-generation fixed wireless broadband network and are rapidly blending that with full fibre to create the UK's only gigabit capable network using hybrid technology.

Quickline's Head of Enablement and Engagement, Julian Chalk, said: "Our sponsorship of the village hall in Hibaldstow, and the creation of our first Q Hub, demonstrates our long-term commitment to support the communities we serve.
"We're proud to be making a genuine difference to the lives of people living and working in these communities.
"The launch event at Hibaldstow promises to be a great afternoon and we hope as many residents as possible come out to enjoy it and take advantage of the new equipment and connectivity available to them."

We recently reaffirmed our two-year price freeze, removing the fear of cost hikes, at a time when many major providers are raising their prices significantly.

Residents and businesses can use our postcode checker here on the website to find out whether fibre is available in their area.

They can also register their interest on the website to be kept up to date on when Quickline is in their community.