Tell us about your community and what you love about it.
I've never been a town or city person, so living here is my ideal sort of lifestyle.
Where we live, I can walk down the road and get to a lovely track which goes to Burton upon Stather. Our dog Maggie loves being outdoors in the countryside, so having lots of walks on the doorstep is perfect. I love hearing the sound of the birds and spotting all the different types of wildlife we have around us.
The Flixborough community couldn't be any more welcoming. We've got really lovely people around us, who have made us feel at home from the day we moved to the village.
What do you and your family use the Internet for?
During the day, I use the internet for social media and keeping in touch with family and friends – all the usual things.
In the evening, it's more for TV. We have Netflix and use BBC iPlayer a lot – to be able to turn the TV on, flick through a myriad of choice, and be able to get any of the services and channels instantly is amazing.
I also use the internet to save money on things like car insurance and energy bills.
How important to you is a fast and reliable home broadband connection?
It's pretty much essential for everything we do these days, isn't it?
Without Quickline and good quality broadband, trying to connect with family and friends who live far away would be almost impossible.
So many things require the internet now. If you don't have a good connection, you'll lose out.
How would you describe your previous broadband service?
In our previous house, we were paying £26 a month to our old provider and got about 35 Mbps download speed.
When we moved here, that same provider said 2 Mbps was the best they could do for us. They wanted £15 a month for that, but there was no way I would pay that for such a poor service.
I was searching around for an alternative when one of our neighbours across the road suggested Quickline.
Why did you choose Quickline?
I got in touch with Quickline after they were recommended to me by a neighbour. They offered much faster speeds at a cost a couple of pounds a month less than the quote I'd received from my old provider.
Quickline also told me that, when they upgraded to fibre in my area, I would receive that service for the same price as I would pay for fixed wireless.
I'm now getting speeds of over 100 Mbps, so I can't complain at all. The service is excellent and I was upgraded to a fibre customer at no extra cost.
Tell us about the service you received from Quickline.
It was excellent. Quickline worked out the best way to get us connected. They were really determined to make it work for us and I couldn't fault them.
The customer service has been wonderful – they explained everything really clearly and talked me through it all.
I've got the Quickline app on my phone, which has all the help and support I could need, and I also know I can just ring them up and someone will be able to explain things in a way even I can understand!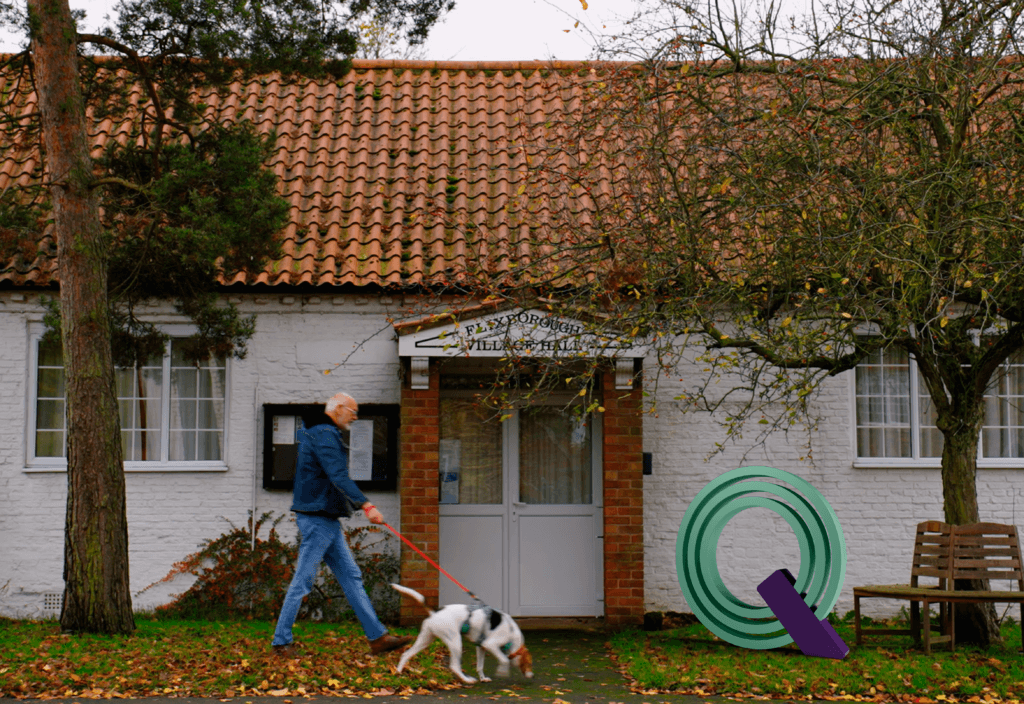 How has Quickline changed your broadband experience?
It's drastically improved. We can stream TV shows or films and there's no buffering.
We don't have to worry about whether the internet is going to work properly anymore. It just does. And we know that, if there ever is a problem, it will be a lot easier to get hold of Quickline than some of the national providers, who leave you sat in a queue for hours.
Would you recommend Quickline to family and friends?
I absolutely would. Quickline has a philosophy of putting customers first in everything it does. It's incredibly refreshing.
There are too many rural communities that are prisoners to expensive, poor broadband. I would encourage anyone who feels that is their situation to have a look online and see if Quickline is in their area.
Quickline really have been a game-changer for us.